My interest in moving abroad may have been part of my genes. After all what other child would decide to learn German with eight years of age??
I grew up in the Netherlands with more German tv stations than Dutch. Germany synchronises all content on tv and this means that you get to see everything in German. To give you an idea, I grew up thinking John Wayne was a native German speaker as I always saw him speaking German.
In The Netherlands on the other hand, we had subtitles and everything we see on TV is in the original language. As a result many Dutch people pick up some English. Some generations learned to speak English purely because of the subtitles. Often, they have an American accent as we had more programs from the USA.
So as a result of hearing a lot of German on tv and living only 20 km from the German border I developed this interest in learning German when I was eight. On top of that my father took me on shopping trips to Germany to stock up on photography supplies. They were substantially cheaper in Germany.
My father was a keen amateur photographer and he had a dark room in our attic. He taught me to print my own black and white pictures so I could create little albums. How nice would it be to still have these albums!
An early interest in anything abroad
To sum it up, I learned to speak German as a kid and I had summer jobs in Switzerland for 5 years while I was studying. One of my best friends lived in Milan so guess where I hang out regularly? My first real job after graduation was for an American company in Switzerland.
It seems that from a young age I was standing with one foot abroad. So, it is not surprising to see that I ended up living in five different countries.
Another interesting thing is that I never showed much interest in Dutch boyfriends. I had a teenage fling for about 3 years but after that I tended to have boy friends abroad. The result was that I never really had 'real' relationships as I hardly ever saw these guys. But it stopped me creating any ties to the Netherlands.
My sister once said to me that I seemed only interested in finding a reason for going abroad. Looking back at my life, I realise she had a point. When I met my future husband in Australia, I certainly did not hold back then. In fact I thought he was an Australian, and secretly I hoped for an easy entry in the land down under.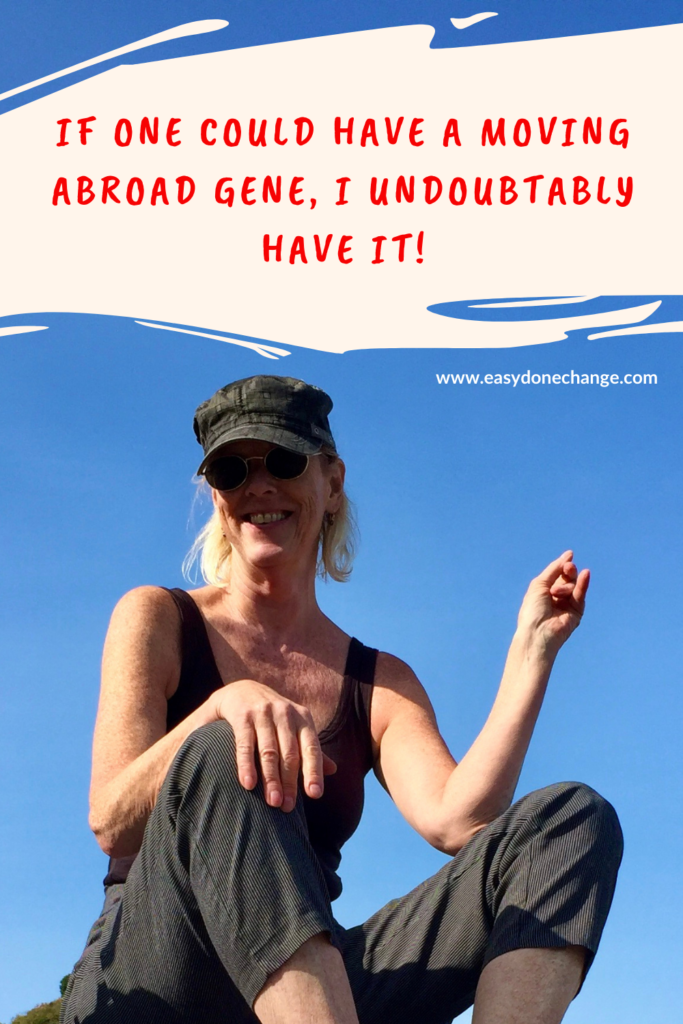 Moving abroad multiple times
Since my twenties I have lived in Switzerland, UK, Australia, and France with short stints in Greece and Norway.
My first move was when I was single and the second and third while I was in a relationship. I moved with a four-year-old child, then with a seven-year-old plus a baby and in 2017 as an empty nester. I have experienced moving within the whole range of age categories and have surely accrued some wisdom over the decades
My last move abroad was after the kids left home and this move was my favourite. It was purely a lifestyle choice, and it feels like I am now perfecting the circumstances of the last chapter of my life.
Let me ask you something!
If a move abroad or relocation has been on your mind, but you think it is only a silly dream. Or if you reckon you would love to have such an adventure but you have no idea where to start…….
In that case, I like to invite you to tap in to my experience. I would love to help you unlock your dream and explore if a move abroad could be within your reach.
Thank you for reading and get in touch!
Marijke